Why should I choose Umoja Jumping Castle Rentals services?
Umoja Jumping Castle Rentals Party Center is home of the largest selection of inflatable air castles, at prices GUARANTEED to be the lowest you will find in town. Some of our themes include Water Slide Castles, 3 in 1 Castles, Prince or Princess Castles, Standard 3x3 Castles, Standard 4x4 Castles, Sports Arena style Jumping Castles, and Toddler-based Castles made with our under 4 year old clientele in mind!
At Umoja Jumping Castles Party Centre we operate our party centre with a 'customer comes first' policy. We feel passionate about providing an unrivalled service for you, your children and your party goers.
From the point of first contact until the minute our team say goodbye after collecting our equipment, we strive to make sure your special day goes as planned and run as smoothly as possible.
Our Jumping castles are an essential addition to your child's upcoming party, and are a fantastic way to keep the kids happy at your next social event!
Our service areas include Canal Walk, Bothasig, Edgmead, Summer Greens, just to name a few. We are a proud COMMUNITY MEMBER.
We pride ourselves of having a professional website, well trained staff, and exceptional customer service skills. Our customer's satisfaction is very important to us as we hope to keep you, your family and friends as dear customers for years to come!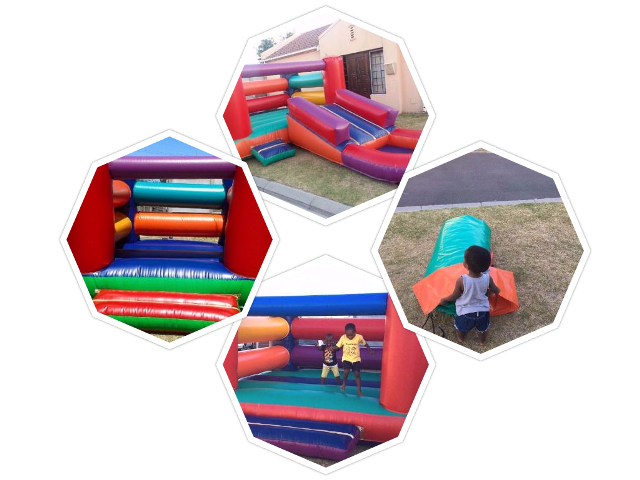 Request to Rent Umoja Jumping Castles
CHECKLIST FOR THE DAY OF YOUR RENTAL
Important: Print, read, and sign a copy of the Rental Agreement/Terms and Conditions and Waiver.
Click to Download Printable Version below:
Check to make sure you have your ID or driver's license, cash for the rental fee and cash for security deposit.
Make sure you are NOT LATE for your scheduled pick up time. If you are going to be late make sure to CALL US to keep your reservation. If we don't hear from you, and you miss your pick up time we will rent the bouncy castle out to someone on our waiting list.
Make sure you have the directions for the pickup location. See map on our "Contact Us" page.
If you are renting a water castle you will need to supply a garden hose. The water tubing from the bouncy castle attaches easily to any standard garden hose.
An extension cord. The cord of the blower that Umoja Jumping Castles Rentals supplies is 50 meters in length. Depending on where your outlets are located a standard extension cord may be required.
Check that the area where the castle will be set up is free from rocks, stones, sticks, animal feces, or anything else that could cause damage to the Jumping castle.
Space in your trunk/backseat for the bouncy castle and accessories.

When you return the Jumping castle:
Make sure you have put the Jumping castle, blower, and any other accessories hired into your vehicle. We cannot return your security deposit until EVERYTHING from your rental has been returned.
The staff at Umoja Jumping Castles will unload the Jumping castle from your vehicle, quickly inflate and inspect the castle for any damages, and promptly return your R800 security deposit.
When you return the Jumping castle it is a great opportunity to see our selection of air castles as they are being cleaned.
Below is a list of our Jumping Castles Selling and Rental Prices*.
*PLEASE NOTE: ALL THE ABOVE PRICES ARE INCLUSIVE OF VAT, MOTOR/BLOWER AND STORAGE BAG(S).